3D Printing
Create 3D project files at home or from compatible software installed on the computers in both the adult and children's labs. Completed files can then be submitted for printing at the Library using the form below.
The Library printer uses PLA filament which is very sturdy and biodegradable.
To ensure that we are able to print your project, please read the 3D Printer Policy before submitting your file.
A few general guidelines to know when submitting a project:
Files must be saved in the .STL format in order for our machine to print them.
Objects can be no larger than: 10″ wide x 6″ deep x 6.7″ high (254mm wide x 154 mm deep x 170 mm high).
Files must be submitted via the form below or USB drive. We are not responsible for any loss of information, loss of the drive, or damage incurred if you leave your personal USB drive in the Library's possession.
The printer will only print objects in a single color.
Projects will need to have a printing time of 4 hours or less.
Cost per project is based on the number of meters of filament used on the print job and the current market price of filament.
Projects are printed on a first come, first served basis and will be coordinated by the Antioch District Library staff. When your project is printed successfully and ready for pickup, library staff will contact you.
As per our 3D Printer Policy we do not print any trademarked, patented or copyrighted materials.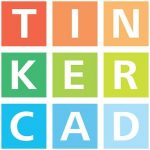 We recommend the website and software Tinkercad to edit and create 3D print objects for beginners. Tinkercad is available on all of our lab computers at the Library.
Available Filament Colors