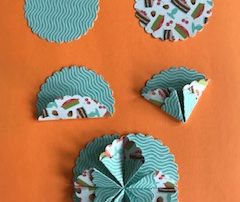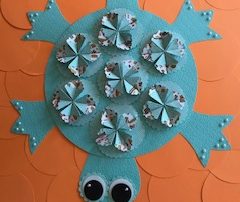 Materials you could use:
Craft paper
Double sided craft paper
Tape runners, sticky dots, tape, glue, and pop up tape
Scissors
Craft punches
Circle shapes
Craft embellishments (buttons, pearls, brads etc.)
Directions:
To start making the turtles, you will need to make templates. For the body of the turtle, you can use a plate to trace on paper to make the template. I used a 10" plate. For the feet and tail, I used a 4"x5" piece of paper. For the head, I used a 4 ½ " x 5 ½" piece of paper. You can make shapes like I used for the feet, tail and face or make your own. After you make your templates, trace them, cut them out, and then assemble the pieces together. When you like how it looks tape or glue the pieces together.
I used craft punches to make the eyes, but you can trace circle objects if you would like and then cut out the shapes. To embellish the eye, I used a 2" scalloped circle punch with colored paper. The outer eye is made using a 1 ½" circle punch with white paper and the inner eye is made using a 1 ¼ " circle punch with black paper. Now to put them on the turtle and see how it looks!
Time for the fun part! You can make the flowers with circle shapes or with a scalloped edge. If you use a scalloped edge you can count out five scallops and then fold up. For the circle shape, you should fold 1/3 of the circle up. Then turn it over and fold the sides to line up and meet in the middle. I used four of these to make my flowers to put in the circle of the turtle. You can tape the flaps down or leave them up a little for a 3D effect. I added pearls and buttons, but you can add any embellishments you would like!
Enjoy! Feel free to share your finished craft on the blog or Facebook!