Bunny Craft
Time for bunnies! Pick at least two different colored pieces of paper to work with. The bunnies are made with different shapes as seen below! Rectangles, circles, and hearts help make these bunnies look adorable.
Once you have cut out the shapes you are going to use for your bunny, follow the directions for putting the bunny together. The sizes of the shapes needed are listed below. You will need to choose whether you are making a small bunny or a large bunny. You can be creative and add your own ideas to your bunny!
I will give directions on how to make the large bunny. The small bunny is made the same way but with different shape sizes. Feel free to change any sizes you wish to.
So, lets organize and prepare the shapes we will need.
Cutting Directions:
Checkered paper pieces:
First you will cut out a circle body that is an 8" circle. Next, you will need to cut out a rectangle that is 7 ½ " x 3". For the inner ear you will cut 2 rectangles that are: 3" x 2".
Plain colored paper pieces:
After you cut the rectangle out, you will need to cut it in half and round the corners on one side. You will round all the corners. The bunny feet are 3 ¼". You will need to cut 2 of these. The nose is made up of 2 hearts that are ¾" x 1" and ¾" x ¾".
Black paper pieces:
The eyes for the bunny can be either 1 ¼ " or 1 ½" circles. Cut two eye shapes. The whiskers can either be drawn on or you can cut them out. If you decide to cut them out, they are 6" x ¼". I used three.
Directions on putting the bunny together:
Ready for the fun part?
Now that the shapes are cut out we are ready for fun! You can use a glue stick, liquid glue or tape. First, take the two ear pieces and glue the inner ear piece on the large ear piece. Next, glue the ears behind the top of the 8" circle. It looks cute doesn't it! Now time for the nose. If you are using the black strips for whiskers glue them on first. You will need to spread them out a little. Then glue the hearts in the middle with the little heart on top and the large one on the bottom upside down! Looks cute doesn't it! Time to add the eyes. Put the eyes a little above the nose. Finally, glue the bunny's feet (3 ¼" circles) at the bottom of the circle and add 3 small circles to each foot (3/4").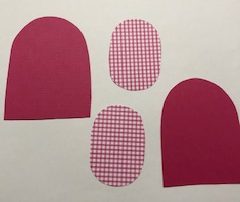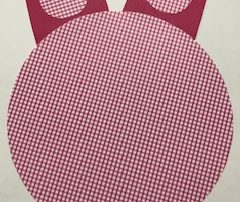 Body: 
8" circle

Large ear: 7 ½ " x 3"

Cut in half and round one end.
Inner ear: 
3" x 2"

Round edges

Cut 2
Large bunny feet: 3 ¼ " circle (cut 2)
Large bunny toes: ¾ " circles (cut 6)
Eyes: 1 ¼" or 1"
Nose: 
(h x w) 1 ¼" x 1 ½" and  ¾" x 1"

2 hearts, one small and one larger

Whiskers:  6" x ¼" thin black strips

Cut 3
Small bunny:
Body: 6" circle
Large ear: 
6 ½ " x 2 ¼ "

Cut in half and round one end
Inner Ear: 1 ½ " x 2 ¼ "
Small bunny feet: 2" circle (cut 2)
Small bunny toes: ½" circle (cut 6)
Eyes: 1"
Nose: 
2 hearts (h x w)

¾" x 1"

¾" x ¾"
Whiskers:
4" thin black strips

Cut 3