A First Person View of PAX East 2018

(2/05/2018)
I was fortunate enough to travel to Boston and attend PAX East this year. While there I was able to get a first glimpse and hands on experience of the new games and technology coming! Part of my goal, other than to marvel with my jaw to the floor, was to share the experience on behalf of the library, as PAX East offers an exciting opportunity to experience the near future of gaming and technology. Even if you do not own a new system or gaming PC, quite a few of the game series shown at PAX are available at the library for various systems. I encourage you to give them a chance, as you never know what exciting game just might be sitting on our shelves available for checkout.
What Is PAX East?
The name PAX is short for Penny Arcade Expo. PAX East is the eastern Boston based expo that demonstrates the latest and greatest offerings from the gaming industry. PAX East has been running since 2010 following the success of PAX West in Seattle. Many exhibitors display new games, current product lines, or anything else gaming related at their booths. This year PAX had a ton to show and added an additional day spanning a total of four days from Thursday April 5th to Sunday April 8th.
Nintendo

Nintendo's latest console is the Switch. Nintendo at PAX East highlighted one of its latest games, Splatoon 2, as well as a collection of other games. If you have not played the series yet, the first Splatoon is available in our catalogue and is an absolute splat fest! Players use weapons that shoot paint in order to mark up the playing field and score points. The sequel to the first Splatoon game is very similar, so getting some time in on the original is an awesome way to stay in practice. Nintendo's booth allowed players to play against each other and give the game a go.
Blizzard

The main feature of the PAX East 2018 expo floor was the impressive large-scale Blizzard booths. The developers also made waves among gamers with their popular game Overwatch. Both games were on display with giant booths and lively events. Overwatch kicked off their Payload Tour photo event, handing out pins to cosplayers who participated in a 360-degree photo shoot, whilst World of Warcraft had its own large booth showing off its newest expansion, which releases soon. Celebration does not need to be limited to PAX, if you get a chance to play the expansion when it releases, consider making it a celebration and cook some World of Warcraft themed dishes via the World of Warcraft: Official Cookbook available for checkout at the library. 
 Virtual Reality
Finally, one of the most defining aspects of PAX Ea   st 2018 was its virtual reality presence and showing. One surprising preview was the virtual reality addition to the popular game The Last Guardian. A game about puzzle solving, personal friendship, and going on an adventure, the Last Guardian is a perfect candidate for VR.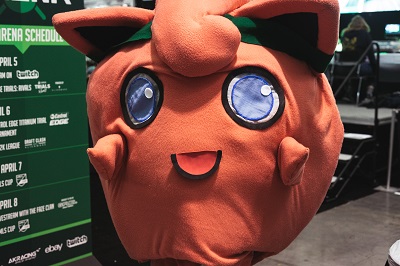 PAX East 2018 Was a Blast!
PAX East 2018 was so much fun. If you ever get a chance to go to it or even any local conventions you totally should! Don't worry if you can't travel to Boston, Chicago especially has a large offering of fun conventions to attend. Perhaps you might even decide to cosplay at one! The Library has plenty of resources for preparing for your first or trillionth convention, so you are sure to be well suited for whatever fun is waiting for you.