Bugs galore (2012)
By Stein, Peter.
Bugs come in all shapes, colors, and sizes!  This book includes bed bugs, cute bugs, live bugs, and dead bugs!  There are many illustrations and rhyming in this story!
Bizzy Mizz Lizzie (2017)
By Shannon, David
Mizz Lizzie is the busiest bee in town, and she is determined to win the school spelling contest–but after studying all night she falls asleep during the contest, and when she finally wakes up she realizes that she has to learn to stop and smell the flowers.
I love bugs (2010)
By Dodd, Emma
See many kinds of bugs that can be found in a backyard!
There Was an Old Lady Who Swallowed Some Bugs (2010)
By Downing, Johnette.
Readers will love hearing about the fly and all the other creepy-crawly bugs the old lady gulps down in this fanciful feast. With a taste for slugs, the old lady enjoys a poached roach, a squirmy worm, a wiggly spider, and more during the course of the tale. And a surprise ending reveals that this isn't just any old lady.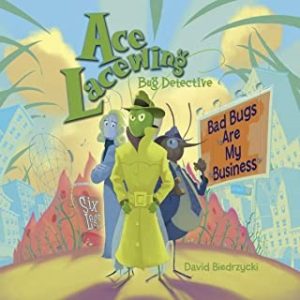 Ace Lacewing, Bug Detective : bad bugs are my business (2009)
By Biedrzycki, David.
After being mugged, Scratch Murphy the flea asks Ace Lacewing, Bug Detective, for help in finding the culprit who stole money from his Six Legs Amusement Park.
I like bugs (1999)
By Brown, Margaret Wise
The author talks about all her favorite insects in rhyme!
Bugs at the beach (2016)
By Carter, David A.
Bitsy Bee and Busy Bug take a trip to the beach to build sand castles, swim, and more!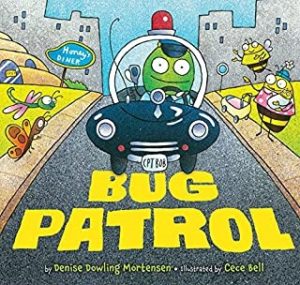 Bug patrol (2012)
By Mortensen, Denise Dowling.
Captain Bob is a bug on the beat! This rollicking read-aloud has plenty of boy appeal, featuring fun rhymes, lots of vehicles, and irresistible bug-eyed characters in a cheerful, vividly colored world.
Big Bug (2014)
By Cole, Henry
Beginning with a bug, various objects are revealed as being big and small in comparison with other objects on a farm under the big, big sky.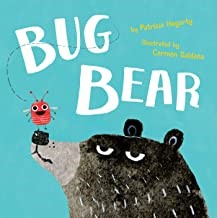 Bug Bear (2017)
By Hegarty, Patricia
Just as Bear is falling asleep, a small bug lands on his nose and won't go away. Bear tries everything he can to get rid of the bug, but the pesky bug just won't leave him alone! What will he do?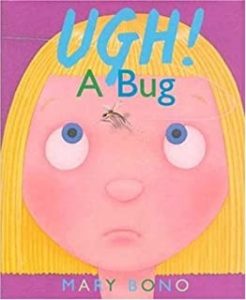 Ugh! a bug (2001)
By Bono, Mary.
What do you do when a bug's bugging you?
They're scary, they're hairy
They swoop, buzz, and hover.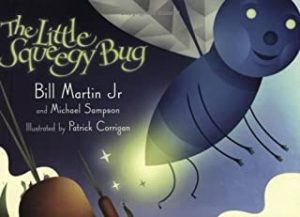 The Little Squeegy Bug (2001)
By Martin, Bill
Once upon a time there was a little squeegy bug. No one knew where he came from. He wasn't an ant. He wasn't a cricket. And he certainly wasn't a flea. What was he? Follow along with lovable bug that tries to discover his true identity.
The Delicious Bug (2009)
By Perlman, Janet
Two chameleon friends, Willy and Wally, are also looking forward to their lunch when a rare thing happens. KerBLAPP! – their tongues simultaneously latch onto a passing bumblebug. Who saw the bug first? And who will be the first to let go?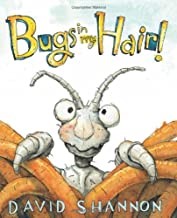 Bugs in my hair! (2013)
By Shannon, David
Funny story about having lice in your hair.